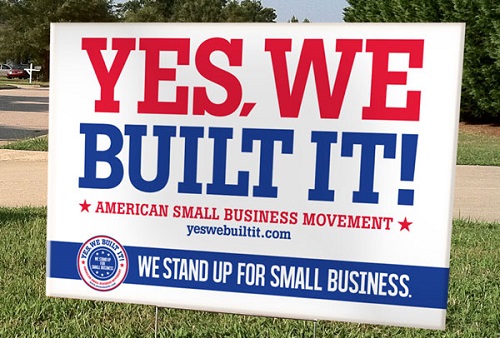 Design Post Yard Signs
Get your own unique custom designed yard signs and custom yard letters.
Applications:
Events
Festivals
Outdoor promotional messages
Think about where you'll post your sign. If it will be posted on a residential street, then an 18X24 Coroplast sign would do. The majority of traffic will be moving slow enough to see it. If your sign will be posted on a much busier street then you may want to consider a larger Coroplast signs because the larger your signs, the more visible your message to heavier traffic.
Our lawn signs are an ideal choice for advertising business products, campaign signs, residential sales and more. In addition to being the perfect choice, these signs offer an economical means of posting your message to the masses out there.
At Custom Signs Today we make it easier for you to design and purchase the kind of yard signs you desire. Whether they are for a political campaign, real estate sale, For Sale sign, promotional yard signs or lease signs, we've got you covered. We offer a large selection of yard sign templates and options to design your own yard sign right from scratch. We have corrugated yard signs that come of different sizes, shapes and colors to accommodate your advertising needs.
Jacqui Kapinowsk
2023-10-05
I can't say enough great things about Custom Signs Today. The owner Greg, his employees Carl and Kevin are professional, beyond generous and supportive of our nonprofit. I highly recommend them. Their work, is top quality, so talented, professionalism and a friendship that has grown over the years. I give them 10 stars⭐️⭐️⭐️⭐️⭐️⭐️⭐️⭐️⭐️⭐️
I am so lucky to have been referred to this company! Very quick and professional. Love my sign!
Kelly Dieugrand
2023-08-24
Looks great! , fast service
Love this sign shop and the guys that work here. They do excellent work, they care about the quality and if it is not right, they fix it. Perfect vendor to work with . I'll use them again. Love the big window decals they did for our business. Bravo gentlemen!
Zerooneone ZeroZero
2023-08-16
An absolute pleasure dealing with Custom Signs Today, I have been dealing with them for my companies for years. I have at least 15 graphics done by them and the are always top notch quality.
Andrew Navarrete
2023-08-11
Quick same day service! Thank you!
Arman With Neptunes Blvd
2023-07-29
Literally….signs TODAY
Geffrie Tirado
2023-07-28
I shopped around. This guy's got me in 1 day. Fast and cheap price.
Highly recommended! Excellent customer service. They went beyond to fulfill with special size banner. Reasonable in their price and completed the job on time. Thank you!
Matt McLaughlin
2023-05-15
Custom Signs Today did a great job designing, fabricating and installing signage for our new office in West Palm Beach. A very positive service experience. Thanks!
Why our yard signs are top of the range.
Our main focus at Custom Signs Today is to provide custom yard signs alongside the best price and service. Our competitive pricing enables us to create your custom yard signs in as little time as possible and ship them to you in record time if needed.
We are proud and confident enough to stay that our custom signs are among the best in the industry, and you can be sure of not getting better quality signs at a cheaper price. Our designers allow you to customize your yard sign based on your specific needs. Place text, add images and approve the entire design.
Customer Support
Customer service is our top priority. Whether you have questions about our designs, pricing or need help placing an order, we'll be with you every step of the way. 
You might also be interested in:
Face Change Signs | Post and Panel Signs | Real Estate Signs
Yard Signs Florida

| West Palm Beach